Privacy Policy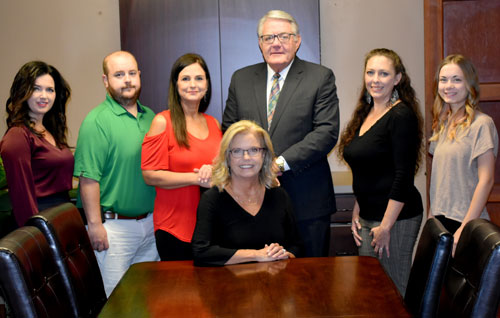 Hawkins Insurance Agency is committed to protecting your privacy. Please read the Hawkins Insurance Agency Online Privacy Statement below for details.
This Hawkins Insurance Agency Online Privacy Statement applies to information collected by Hawkins Insurance Agency through its website and services, as well as its offline product support services. When you sign our application for health insurance, dental insurance, or life insurance, you are giving us legal authority to collect PII. This authority is voluntary and you may choose not to authorize us to collect and distribute PII, but we will be unable to process you application without the necessary information requested by the agencies or companies we share that information with. If you choose to disclose your PII, when you sign the application (s) necessary for submission of application for insurance you are giving your "consent" for us to take the necessary steps to see if you qualify for any state sponsored plans (HCIP) or premium tax credits through the Health Insurance Marketplace.
Collection of Your Personal Information
To access some Hawkins Insurance Agency services or to obtain certain products, you may be asked to provide personal information in order for us to serve you as well as handle any inquiry or service. When viewing our website, we may collect information about your site visit, including the pages you view, the links you click and other actions taken in connection with the Hawkins Insurance Agency website and services. We may also collect certain standard information that your browser sends to every website you visit, such as your IP address, browser type and language, access times and referring website addresses. Hawkins Insurance Agency customers may receive periodic newsletters or promotional e-mail from Hawkins Insurance Agency. We may use web tools, customized links or similar technologies to determine whether the e-mail has been opened and which links you click in order to provide you more focused e-mail communications or other information.
Use of Your Personal Information
Hawkins Insurance Agency collects and uses your personal information to deliver our services, carry out the transactions you have requested, and to operate and improve its website. These uses may include providing you with more effective customer service; making the site or services easier to use; performing research and analysis aimed at improving our products, services and technologies; and displaying content and advertising that are customized to your interests and preferences. We also use your personal information to communicate with you. We may send certain mandatory service communications such as welcome letters, reminders or information on service issues. We may also occasionally send you product surveys or promotional mailings to inform you of other products or services available from Hawkins Insurance Agency. Hawkins Insurance Agency is required by Federal Law to protect your PII by located methods such as building, files and storage. All paper files are locked daily, all agents have secure laptops which are password protected, all agents/employees are required to maintain specific password protection regarding access to insurance company websites, any communication via email containing PII is sent through a secure file, and all records are maintained for 10 years as required by CMS.
Sharing of Your Personal Information
Except as described in this statement, we will not disclose your personal information outside of Hawkins Insurance Agency or outside any of the other services necessary to deliver our services and products to you. We may occasionally hire other companies to provide limited services on our behalf, such as handling the processing and delivery of mailings, providing customer support, hosting websites, processing transactions, delivering products or performing statistical analysis of our services. Those companies will be permitted to obtain only the personal information they need to deliver the service. They are required to maintain the confidentiality of the information and are prohibited from using it for any other purpose. We may access and/or disclose your personal information if we believe such action is necessary to: (a) comply with the law or legal process served on Hawkins Insurance Agency, LLC; (b) protect and defend the rights or property of Hawkins Insurance Agency (including the enforcement of our agreements); or (c) act in urgent circumstances to protect the personal safety of users of Hawkins Insurance Agency services or members of the public.
Changing Your Personal Information
You may, at any time, contact us to edit your personal information.
Use of Cookies
Hawkins Insurance Agency' website may at times use "cookies" to analyze where you are visiting us from and how you reached us. A cookie is a small text file that is placed on your hard disk by a webpage server. Cookies contain information that can later be read by a web server in the domain that issued the cookie to you. Cookies cannot be used to run programs or deliver viruses to your computer. Third party sites visited outside of Hawkins Insurance Agency may also utilize cookies to track user visitation habits and are solely responsible for their use of cookies in doing so. You have the ability to accept or decline cookies. Most web browsers automatically accept cookies, but you can usually modify your browser setting to decline cookies if you prefer.
Enforcement of This Privacy Statement
If you have questions regarding this statement, you should first contact us by calling us or mailing us. If you do not receive acknowledgement of your inquiry or your inquiry has not been satisfactorily addressed, please know that we desire to assist you in any way necessary. Please do not hesitate to contact us again. Contacting Us Hawkins Insurance Agency welcomes your comments regarding this privacy statement. If you have questions about this statement or believe that we have not adhered to it, please contact us at: 501-354-3196.
Handling a PII Breach
A PII breach is the compromise, unauthorized disclosure, unauthorized acquisition, unauthorized access, loss of control or any similar term or phrase that refers to situations where persons other than authorized users or for an other than authorized purpose have access or potential access to PII. – A security incident, or incident, is the act of violating an explicit or implied security policy, which includes attempts (either failed or successful) to gain unauthorized access to a system or its data, unwanted disruption or denial of services, the unauthorized use of a system for the process or storage of data; and changes to system hardware, firmware, or software characteristics without the owner's knowledge, instruction, or consent. If a breach is detected, our agency will report to the necessary entities within one hour of the detection. This includes any insurance company, state agency, or the Health Insurance Marketplace.
Updated: September 1, 2016
Learn more: